Ground Map - Overview of the Festival

Oktoberfest2023.de | Oktoberfest2023.com
Oktoberfest2024.de | Oktoberfest2024.com

The Munch folk festival goes this year from


16th of September - 03rd of October






Announcement
Where are the tents and services at the festival?
Official plan of the Theresienwiese Munich
The Wiesn is the biggest folk festival in the world. And so the fairground includes most of the 42 hectares from the "Theresienwiese". The Theresienwiese is the festival ground in the heart of Munich, where the Oktoberfest has been held for over 200 years. Due to the central location it is easy to reach. Read how to get there...

Official ground map
So, at the Oktoberfest it's quiete easy to lose the orientation. Therefore the city of Munich, publishes an "official map" of the festival ground. This ground plan helps to keep the orientation on the big festival area.

Current update
Meanwhile, a simplified map has been issued by the city. So we put it online instead of the old and overly detailed plan. As in previous years, the new overview plan is now very clear. So you can find everything quick and easy.

The new Map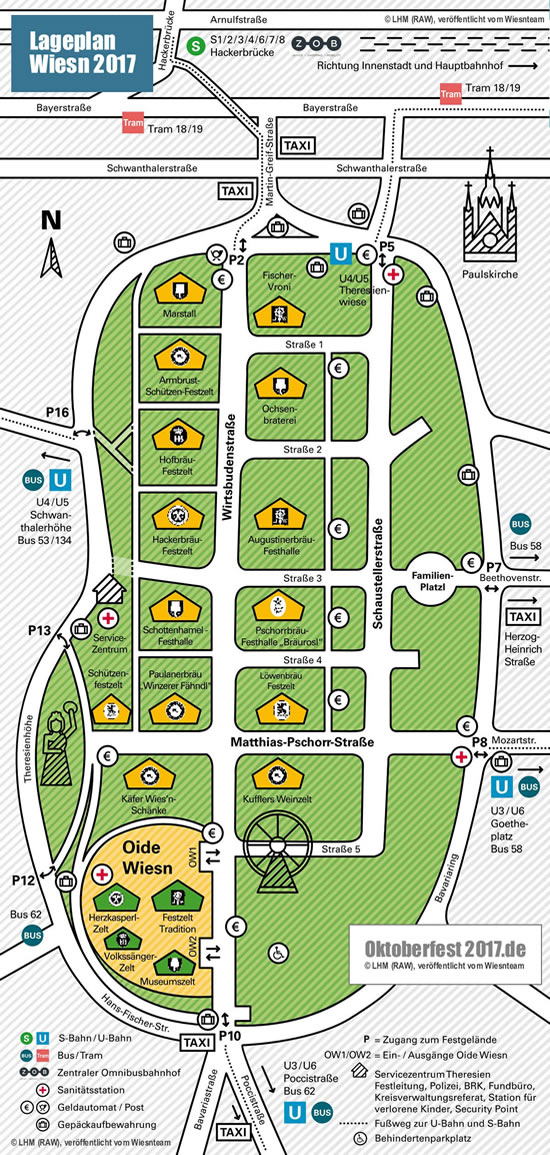 Oktoberfest ground plan - Map of the festival management (RAW)


Historical area instead of ZLF
As every 4 years, the agricultural fair (ZLF) was 2016 at the Theresienwiese. Here the many stands and tents of the exhibitors are on the southern part of festival ground. And because the ZLF needs a lot of space, the "Oide Wiesn" (nostalgia or historical party) and some smaller tents have to have to make a break. This year the Oide Wiesn is back. This is why the festival this year looks like the party in 2015.


Announcement


Announcement




| | | | |
| | | |
| | | |
| | |
| | | |


Source pictures: Posters and maps of the city of Munich (RAW). Mugs and steins
of the respective manufacturer. Pictures Dirndl and fashion of Sportalm Kitzbühel
More pictures as well as all information and trends from Wiesnteam and partner
Support for fashion and trends from the Munich Trachtenteam and the Dirndlteam

Oktoberfest Services - Festival Information and map of the Theresienwiese
Overview of the Theresienwiese - Official ground plan of the organizer (RAW)
Map with all large tents, the service center, the bus stops and the taxis stations
Alle weiteren Rechte bleiben stets vorbehalten © All other rights always reserved
Bitte beachtet unsere Hinweise zu Namen, Marken und Copyright im Disclaimer
Please note our disclaimer for copyrights and rights of names and trademarks